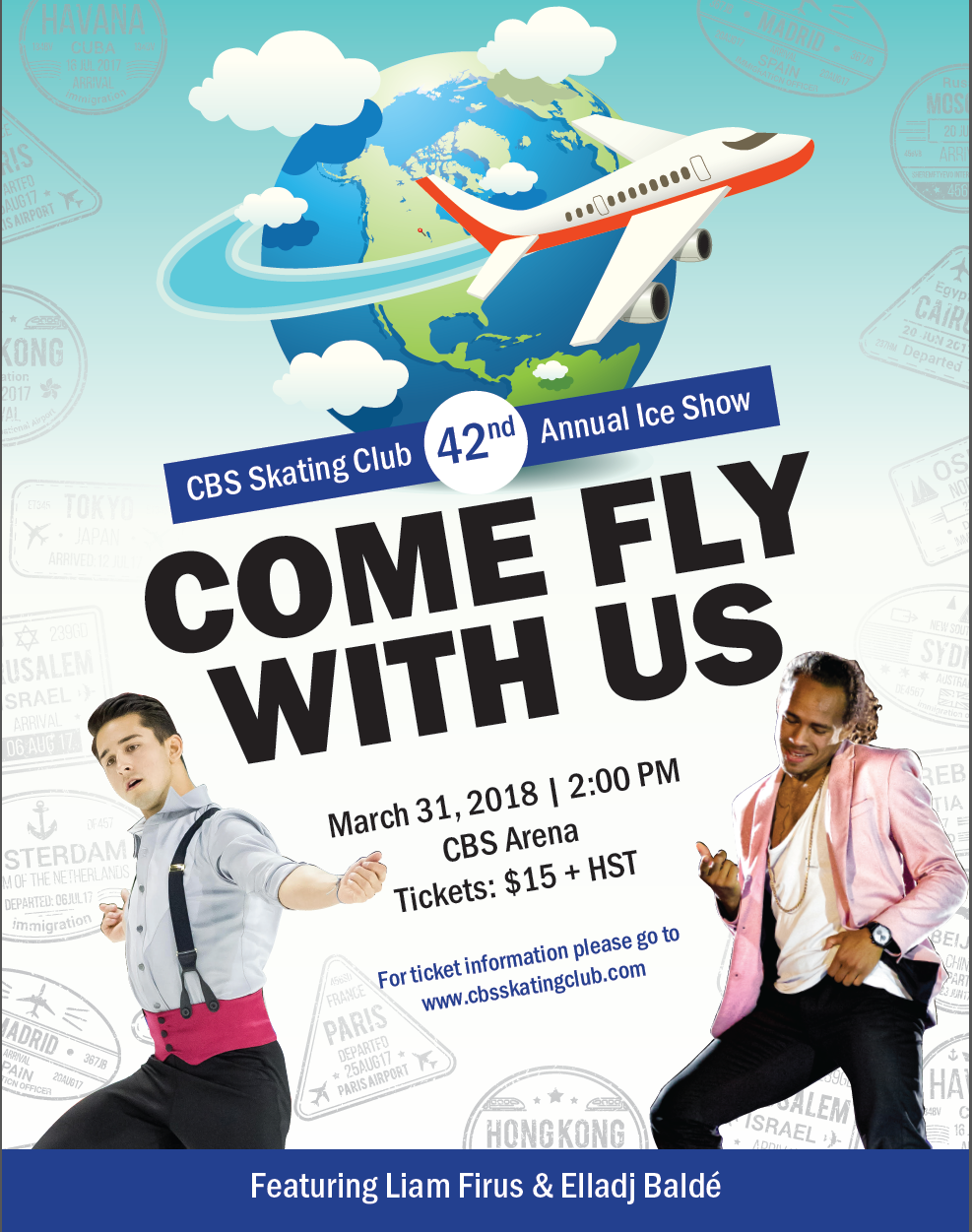 Our Annual Ice Show
Saturday March 31st 2:00 p.m.

Performance Schedule.pdf (updated March 23)

click here for: Ice Show Information pages
Ice Show Groups & Schedules
(updated March 23)
click here for: CanSkate
click here for: STARSkate
Dress Rehearsal Schedule
(updated March 23) (Good) Friday March 30th
9:00am - 4:00 pm CBS Arena
click here for: Dress Rehearsal & Complete Practice Schedule
Ticket Information
Tickets are now on sale online at: Town of CBS - Come Fly with Us
$15 (+HST & Service Charges) per ticket for general admission
Please use the Index on the left-hand-side of your screen to navigate through our Ice Show pages (ticket information, schedules, groupings, etc).
General Ice Show Information
CBS Skating Club proudly presents its annual ice-show every March/April. Athletes from all our various programs starting at Pre-CanSkate right up to our Competitive Skate perform various numbers for a sold-out audience every year.
Participants in our CanSkate programs will be notified in our Winter Session of registration and costume sizing deadlines. A minimal fee is required to partially cover the costs of the costumes, ice-time and coaching fees. Rehearsals will begin after the CanSkate season has completed.
Tickets are available closer to the event and is open to the general public, and can be purchased online (a link will be available on our website at 12:00 noon on March 19th).
Notifications and rehearsal schedules will be posted in March.
Registration, costume fitting and further information opens up on January 22/24 and will conclude on February 5th.
When and where are rehearsals?
After the Winter CanSkate/StarSkate sessions conclude, Ice Show practices begin! All Pre-can/CanSkate sessions have two - 45 minute practices and one dress rehearsal. STARSkate/Competitive Skaters will practice more frequently. All PreCan/Canskaters will be assigned to attend one dress rehearsal. Dress rehearsal will be held on Friday, March 30th.
A detailed practice and rehearsal schedule will be posted at a later date, but generally skaters can expect to rehearse 2-3 times per show number. Where possible, PreCan/CanSkates rehearsals will generally be scheduled when PreCan/CanSkate sessions would normally run (Wednesday, Thursday and Sunday). Practices may be held on a different day than the session you were registered for in the winter, as we do sometimes need to combine groups due to number of skaters that register for the ice show.
When and where is the Ice Show held?
The show will be held at the CBS Arena, off Legion Road – March 31st. There will be one show this year, to be held in the afternoon (time TBD). PreCan/CanSkaters (includes Academy & Pre-Bronze) will be assigned to one half of the show.
Please note that the ice show this year will be held over Easter weekend. Dress Rehearsal will take place on the Good Friday holiday (during the day) and the Ice Show will take place on the Saturday afternoon (the day before Easter Sunday).
Is the Ice Show open to all skaters?
Yes! All skaters from Pre-Canskate, CanSkate stages 1-6 (includes Academy and Pre-Bronze), through all our levels of STARSkate/Competitive Skate are invited to participate. In fact, our youngest PreCan/CanSkaters are often the most popular part of the show. PreCan/CanSkaters MUST be registered in the winter session in order to participate in Ice Show. Pre-CanSkaters are brought out to centre ice by riding on a prop that will be pushed out by coaches and assistants. They will then perform their routine from centre ice and skate off the ice. There will be assistants on the ice with them and they will be ready by week 10 to take part in the show.
What will my skater be doing?
Each skater will be assigned to a specific group, according to skill level. During rehearsal time, our coaches will choreograph a number to fit the accompanying music, and it will be performed by the group during the Ice Show performance. Skaters are grouped according to skill level and age, and our coaches design each show number to showcase the appropriate skating level, so everyone can participate and enjoy! Each number is approximately 3 minutes. All Pre-Can/Canskaters (includes Academy & Pre-Bronze) will participate in one number.
All StarSkaters/Competitive Skaters will be assigned a core group number (Gold, Silver and Bronze) and possibly a solo or mini-group. Solos & mini-groups are awarded based on criteria from the skater's season. More information will be given to skaters regarding this. StarSkaters/Competitive Skaters are given the opportunity to be in multiple numbers. Gold & Silver have the option of participating in the opening number. Provincial qualifying skaters may participate in the closing. Participation in these numbers is optional and each number a skater participates in will have an additional $10 costume fee. Associate members may skate in the opening and closing, however they do not qualify for a solo and they may not take part in the core group number.
How are skaters grouped for the ice show?
Once registration is complete, our Directors along with our coaches work to group skaters of similar skill level together. Some adjustments may need to be made depending on costume availability and group size (some show numbers require larger groups, which can result in a broader range of skill level. We are unable to take requests to put friends in the same group or to change groups based on rehearsal times.
What about helmets?
As per Skate Canada rules, skaters up to Stage 6 must wear helmets.
How do I register?
Please refer to our Ice Show Registration page (click here) for more information on fees, entering your costume measurements and how to register.