CBS Skating Club Fees 2021/22
Please note: Program fees do not include the fees below
---

Fundraising Fee - $20
All skaters will be asked to sell tickets 4 books of tickets ($5 each) for the Club fundraiser during the 2021/22 season.
Skate Canada Fee - $43.65
This fee includes the Skate Canada Registrant fees, Safe Sport fees and Participant Insurance.
Respect in Sport - $12
Paid on the on the Respect in Sport Website. https://skatecanadaparent.respectgroupinc.com/ (Association Name: South Conception Bay)
All families are required to complete Respect in Sport. This is the same course as CBR Minor Hockey and can be linked.
Course must be renewed every 4 years
Fee for Pre CanSkate Partner - $43.65
This fee is a result of COVID restrictions and is for insurance purposes for the bubble partner that skates with Pre CanSkate participant. Partner is not required to pay this fee for the first 3 sessions however if the Coaches deem that the partner needs to stay on the ice to assist the skater this fee will be added to the skaters invoice.
---
2021/22 Regular Season Program Fees

CanSkate Fees
Sessions

Program Fee

Registration fees can be paid in 7 equal instalments.

Sunday Pre CanSkate (23 weeks)
$299.00
Thursday Pre CanSkate (25 weeks)
$325.00
Sunday CanSkate - Stages 1-6 (23 weeks)
$391.00
Thursday CanSkate Stages 1-6 (25 weeks)
$425.00
Wednesday CanSkate Stage 1-6 (27 weeks)
$459.00
Wednesday Pre Bronze Stage 3-6 (27 weeks)
$459.00
This fee includes the cost of ice time and coaching. PreBronze Skaters are encouraged to skate a second Canskate Session.
Discounts: 2 sessions 15%
Please note: Program fees do not include the fees above
---
STAR/Competitive/Pairs Fees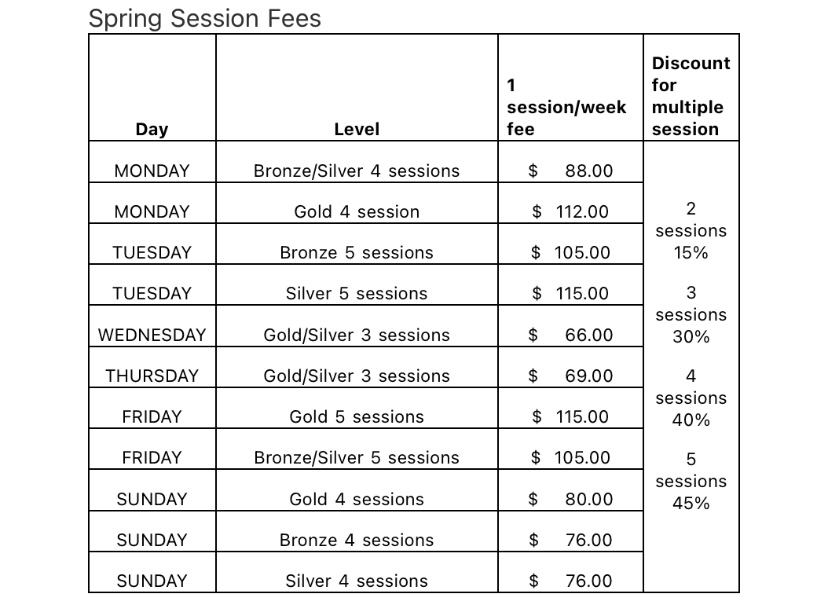 This fee includes the cost of ice time and coaching for the group sessions. These fees do not include private coaching for the Freeskate portion.

Synchro Fees
| | |
| --- | --- |
| Session | Total Fee |
| Beginner (22 weeks) | |
| Pre Juvenile | |
| Juvenile | |
| Pre Novice | |
| Adult | |

Fees include the cost of ice time for the session as well as the coaching for the on-ice and off-ice classes.
Alternates: Alternates only pay 50% of the registration fee. If you are an alternate please select pay in person and email cbssctechnicaldirector@hotmail.com and I will edit the fee for you.
---
Cancellations & Refunds
Please refer to the
Rules and Policies
page in the Our Club section of the website for refund and cancellation policies.