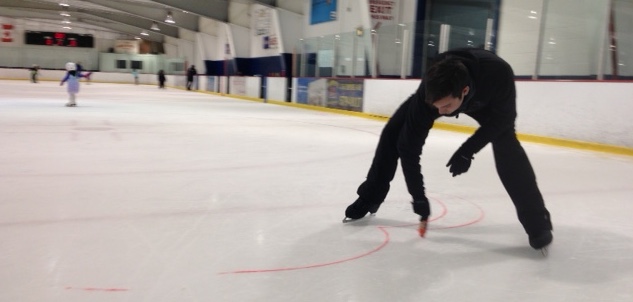 Welcome to Teen-AdultSkate
The CBS Skating Club would like to extend a warm WELCOME to everyone registering for our new Teen-AdultSkate program - our newest program being offered in the Winter Term of the 2015-16 sSeason. The Club is a fast-growing one, one which continues to expand and grow. It is definitely an exciting time to be a member of the CBS Skating Club especially with the opening of our new stadium in Kelligrews.
Please remember that we are a volunteer organization; the majority of our executive members work full-time jobs during the day, and generously give their time to the Club in the evenings and on skating days. We do not have any paid administrative staff or daytime office hours. We only have office hours during skating sessions, as our office is operated by parents who volunteer to be in the office while their child is skating. (Please see times below.)
Office Hours (during skating sessions)
The CBS Skating Club has an office in the Robert French Memorial Stadium next to the canteen entrance. We staff this office with volunteer executive members during most of our skating sessions. Our up-to-date office hours can always be found on the Contact Us page on our website.
Communication/Contacting Us
We do have a phone at the stadium, however, we do not accept messages as we do not have enough volunteers to handle the high demand of returning phone messages. The best form of communication is email (cbsskatingclub@hotmail.ca) and we try our best to respond to your inquiries within 24 hours. Please do not call the CBS Stadium's phone line regarding CBS Skating Club questions, as they are not familiar with our programs and will be unable to answer any such questions.
Please refer to our website - frequently. Most often, your questions can be answered faster by referring to the website information, then sending an email. By clicking on the tabs at the top, you will be given many categories of information.
Please refer to our website - www.cbsskatingclub.com - frequently for updates and news items. Most often, general questions about the Club, its members and its programs can be answered quite quickly by referring to the information found on the Club's website. The tabs at the top of the site should help you easily find the information you are looking for. You are encouraged to try that route prior to sending an email.
Your Family Calendar (when logged in to our website under the "My Account" tab) is a very useful tool for you, as the dates for the year are posted in the calendar section on the website and will show you exactly what days/weeks your child has skating.
Cancellations, Missed Sessions and Refunds
Cancelled sessions due to weather will be made up at the end of each 10-week program, but not necessarily on the day that your child would normally skate - it will depend on ice time availability. We update our website on a regular basis and if sessions are cancelled due to weather, we will try our best to post it on the website by 2:00 p.m.
If your child misses a session due to sickness, vacation, etc., we DO NOT allow them to make it up on another day. Your child is only permitted to attend the day that they registered for. All of our sessions are normally full and we have a limit as to how many we are allowed to have on the ice at a time.
If for any reason you would like a refund, please note that our refund policy states that no refunds will be issued after the second week of skating, unless it is for medical reasons with a doctor's note provided. Any refunds will be subject to a $60 administration fee (Skate Canada's fee is non-refundable to us) and less any sessions skated.
CanSkate On‐Ice Delivery
Skate Canada has developed a new CanSkate program based on Sport Canada's long-term athlete development (LTAD) principles. Exciting new features include a fresh new look, new awards, great tools for coaches and most importantly a tested and proven new curriculum and delivery methods that guarantee skater success in developing stronger basic skills and developing them faster. But there's more! The new program also includes specific skills that pertain to hockey, speed skating and figure skating. The result is a dynamic program that prepares all skaters for virtually every ice sport.
The CanSkate program consists of movements using circuits to teach and practice skills. This format ensures little standing around and less time waiting to take turns to practice skills. Skaters will rotate to different stations throughout the session. All sessions will have the following components – warm-up, lesson time (group activity) and cool-down.
We are proud to have all of our programs taught by Professional Coaches who are specially trained and certified through the National Coaching Certification Program (NCCP). They are on the ice teaching the skaters the skills and assessing their ability, and are responsible for preparing and implementing the lessons. They will have "Coach" on their jackets to identify them.
Stages
For those of you who are new to our program, the CanSkate program involves Stages 1 to 6. It is important to note that each skater moves through the stages based on their ability. They are continuously assessed and will progress at different rates. Within each stage, there are three ribbons (Agility, Balance and Control) to be earned in order to progress to the next stage. Each ribbon represents the mastery of the sub-skills for that stage. These ribbons can be achieved in any order, at any time and are awarded on an individual basis. When all three ribbons have been awarded, the skater will receive a badge for that stage and move to the next stage. Not all skaters will be receiving ribbons and/or badges at the same time. This allows for faster progress for those who are ready to move up a stage. It is possible for a skater to move through multiple stages during the 10-week session; it is also possible for a skater to remain in the same stage for entire session, both of which are perfectly fine! It is important to remember that all children will progress at different rates and will have their own level of success during the season. At the end of the 10 weeks, a report card will be distributed updating the skater on their progress, noting their successes and what they still may need to work on.
Volunteering
Skating, like many other group sports, relies upon the commitment of a strong volunteer group. Without the commitment from these volunteers, our programs cannot run. Please consider becoming involved with our organization.
We are also looking for volunteers to lead a fundraising committee and other positions in our committees and the Executive. If you are interested, please come see us or send us an email!
If you have any questions or concerns during the season, please feel free to send an email or stop into the skating office during the skating session. Our executive members will be wearing blue CBS Skating Club Jackets to help you identify who may be able to help you with a question or concern.
To our returning skaters, WELCOME BACK and CONGRATULATIONS on your successes from last season, and all the best for this upcoming season. For those of you who are just joining us, we are glad to have you