CanSkate is SkateCanada`s flagship program and is one of the most sought-after skating programs in Canada. It has been developed over time using feedback from coaches, sport science and Long-Term Athlete Development (LTAD) experts. The focus is to master strong basic skills in a progressive manner and develop the speed, strength and flexibility needed for all ice sports – hockey, ringette, and figure skating. The skater to coach ratio is low (10:1 or less) in order to ensure individual attention and continuous advancement through the program. There are six stages of skating skills development, plus an introductory level called Pre-CanSkate. Skaters progress through these stages at their own rate, and advance to the next stage upon completion of the previous one. Ages 3+
REGISTER

On-Ice Program Delivery

Pinnies
During a CanSkate session, there are up to six groups on the ice. By having different colored pinnies for each group, the skaters and coaches will be able to quickly see where they should be on the ice. The colors are random, and are simply a means of grouping the skaters – colors are not associated with a level. These pinnies will be worn over the child's sweater/jacket. Your child should put on their pinnie before getting on the ice. Please CANSkate is SkateCanada`s flagship program and is one of the most sought-after skating programs in Canada. It has been developed over time using feedback from coaches, sport science and Long-Term Athlete Development (LTAD) experts. The focus is to master strong basic skills in a progressive manner and develop the speed, strength and flexibility needed for all ice sports – hockey, ringette and figure skating. The skater to coach ratio is low (10:1 or less) in order to ensure individual attention and continuous advancement through the program. There are six stages of skating skills development, plus an introductory level called Pre-CANSkate. Skaters progress through these stages at their own rate, and advance to the next stage upon completion of the previous one. be at the rink early for the first session to get your group assignments and pinnie. Please return your pinnie to the table after your session, as these are to be kept at the stadium
Pre-CanSkate
Pre-CanSkate will warm up and have lessons in the same zone at an end quarter of the ice for the entire session. The Pre-CanSkate group is made up of skaters who have never skated before and who are not confident with their balance on the ice, regardless of age. They work on the essentials needed to move safely and effectively on the ice so that they can eventually rotate through the different learning stations. There are eight basic skills designed to ready them for Stage 1. Once skaters are mobile and feel comfortable rotating between zones, they will be moved to a different group. Each skater will be assessed by the coach and Skating Director regarding movement to the rotational schedule. Please note that parents are not allowed on the ice with their Pre-CanSkater. The skater must be at least three years old by the end of the skating term and willing to go on the ice without their parent. Ratio on this session is 10:1.
CanSkate
There are three main stations on the ice during each CanSkate session: Balance, Control, & Agility. Each week, one of the zones is designated as the Fun Zone, which will have some extra fun added to the circuit. A Fast Track encircles the perimeter of the ice rink, outside of the group stations. Each session consists of a warm-up, three small group lessons (10 minutes each at one of three stations with a different coach at each station), a group activity and a cool-down with a focus on continuous movement. Skaters use the Fast Track to move from station to station. The sessions incorporate upbeat music, teaching aids and a wide variety of activities to add fun and variety. Ratio on this session is 10:1.
Adult-TeenSkate
The Adult-TeenSkate program teaches the fundamentals of
skating required for recreational skating/hockey following our CANSkate levels. The focus is on fun and basic skill development with skaters progressing at their own pace. Lessons are given in a group format and led by an Skate Canada certified professional coach. This session is open to all skaters age 12 and older. As in all of our CanSkate programs, a CSA Approved hockey helmet is mandatory of all of our Adult-TeenSkaters.
Assessments, Ribbons & Badges


Skaters move through the stages based on their ability. They are continuously assessed and will progress at different rates. Within each stage, there are three ribbons (Agility, Balance and Control) to be earned in order to progress to the next stage. Each ribbon represents the mastery of the sub-skills for that stage. These ribbons can be achieved in any order, at any time and are awarded on an individual basis. When all three ribbons have been awarded, the skater will receive a badge for that stage and move to the next stage. This allows for faster progress for those who are ready to move up a stage. Please discuss this system with your child so that they understand that not everyone will receive a ribbon at the same time in order to avoid disappointment. It is possible for a child to move through multiple stages during the 10-week session; it is also possible for a child to remain in the same stage for entire session, both of which are perfectly fine! It is important to remember that all children will progress at different rates and will have their own level of success during the season. You will receive a report card at the end of the 10 weeks to update you and your skater on their progress, noting their successes and what they still may need to work on.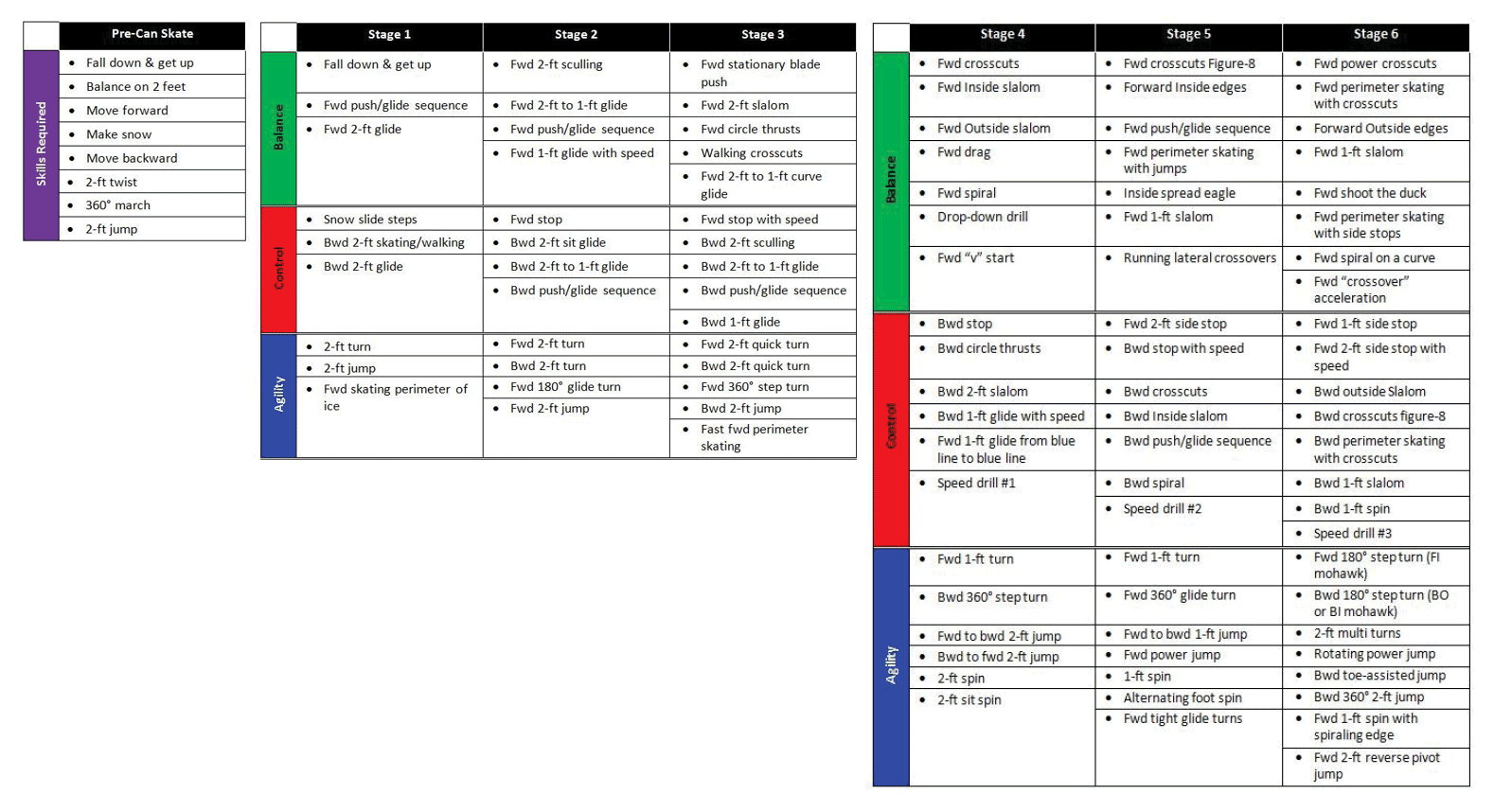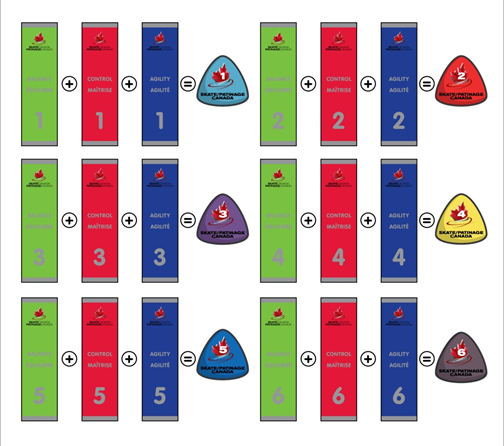 Designed for skaters eager to move into the figure skating programs. Skaters must be identified from our CanSkate program by Coaches as having an aptitude for skating. Evaluation session will be setup prior to registration. Skaters in this program are must skate 2 sessions per week, one Academy and one regular CanSkate session. This session is intended for skaters up to the age of 8 years as of July 1st as of the beginning of the skating year (Sept - Mar).
On-Ice Program Delivery
As there are less skaters per coach in our Academy sessions, we do not use the pinnie system that your skater would be familar with in their CanSkate sessions.
In our Academy sessions we have fewer skaters on the ice to allow for more movement. The teaching format is also different than in a regular CanSkate program, as the program and lesson plan will be individualized to the skaters/groups. Academy Can-Skate is a good introduction to the Figure Skating teaching format. The lesson plan will follow more of a STARSkate approach rather than a CanSkate approach in terms of team teaching and format. All sessions will still have the following components – warm-up, lesson time and cool-down.
During the Academy session, the coach and skaters will not necessarily be focusing on Canskate elements (to pass stages), but rather on figure skating elements. Distribution of ribbons and badges will not be the focus of Academy sessions but will occur in the skater's Accelerated CanSkate session.
We are proud to have all of our programs taught by Professional Coaches who are specially trained and certified through the National Coaching Certification Program (NCCP). They are on the ice teaching the skaters the skills and assessing their ability. They are responsible for preparing and implementing the lessons.
They will have "Coach" on their jackets to identify them.
Off-Ice
Academy CANSkaters will also have access to off-ice training. Off-Ice Training is provided in a group setting, usually in our warm room. During the session skaters will work on agility and strength training, core and balance work, athletic/skating related games specific to skating skills.
Assessments
All Academy skaters will skate two sessions, the Academy session and a CanSkate session.
Academy Session: Coach and skaters will not necessarily be focusing on Canskate elements (to pass stages), but rather on figure skating elements. Although they won't be assessed on these specific skills - these lessons are considered a key component to an Academy CanSkaters future success and will be help the skater in mastering skills to be used in later CanSkate levels or StarSkate. Distribution of ribbons and badges will not be the focus of Academy sessions.
CanSkate Session: Skater will be focusing primarily on elements covered under the CanSkate report card. Skaters will also have the opportunity to gain their CANSkate ribbons and badges during this session. Please refer to the CANSkate page for an overview of CANSkate stages, ribbons and badges.
Figure Skates
As the Academy sessions focus on figure skating elements, all Academy CanSkaters are required to wear Figure Skates for this session (no hockey skates). Skates should be comfortable, fit well, and provide firm ankle support. All CanSkate participants (up to & including Stage 5) must wear a CSA-approved hockey helmet while on the ice. If you have any questions or concerns regarding equipment for your skater, please speak to the CanSkate Coordinator, a coach or a Board member.
For more information on how to choose skates and care for them properly, please refer to our Equipment Guide.

Having the right equipment will ensure that a skater's experience on the ice is fun, successful and safe. Skates should be comfortable, fit well and provide firm ankle support. All CanSkate participants (up to & including Stage 5, all ages) must wear a CSA-approved hockey helmet while on the ice. Most department stores (e.g. Walmart, Canadian Tire), sports stores (e.g. SportChek, Play It Again Sports) and figure skating stores sell skating equipment in a variety of price and quality ranges. The choice is yours. If you have any questions or concerns regarding equipment for your skater, please speak to the CanSkate Coordinator, a coach or a Board member.
How to check fit of skates
Partially lace boots through instep.
Slide foot forward so toes can touch the front but are not cramped.
Stand with weight equally distributed over both feet and bend knees.
The space at the back of the heel should be no more than a pencil width.
Tie laces loosely over the toe and front of the boot and snugly over the ankle and instep.
Skates should fit snugly around the ankle and heel.
Skate should fit the width of the foot – they should be snug but comfortable and allow toes to wiggle.
There should be no looseness or creases in the boot. The tongue should be well padded and wide enough to cover the front of the ankle and stay in place.
Walk around in the skates. Skates should feel comfortable. Ankles should not wobble.
Tips for purchasing skates
Wear only one pair of tight fitting socks or tights (the same pair that will be worn when skating).
Avoid buying a larger size for skater to "grow into". If too loose, skates will not be supportive.
A leather boot is preferable to vinyl. Laces and hooks are preferable to buckles. Moulded plastic skates are not recommended.
How to tie skates
Be sure the tongue is centered and pulled all the way up.
Start at the toe of the skate and tighten laces comfortably over the toe and front of the boot.
Before tightening the hooks, wiggle your toes to make sure the skates feel comfortable.
Tie laces snugly around the ankle and tie a tight bow or double knot.
Make sure extra lace is tucked away. Do not wrap laces around the ankle.
Care of skates
Always wear protective guards when walking off-ice to protect sharpened blade. NEVER walk on concrete surfaces without skate guards.
Dry blades and sole plate completely with a cloth after skating to prevent rust.
Protect blades with soft guards while in skating bag.
Remove skates from bag and guards from blades after each use. Allow boots and blades to air dry completely.
Never store skates with hard guards on.
Unlace skates sufficiently before removing them so that the back of the boot will not break down or rip.
Sharpening your skates
Sharpen skates as soon as they are purchased.
Use a good skate-sharpening company.
Re-sharpen skates after approximately 30 hours of skating (depending on usage and care).
More frequent sharpening may be required if the skater walks on concrete, rubber or carpeted surfaces without guards, if the blades are not wiped dry, or if there are severe nicks and rough surfaces on the edges of the blade.
If your child wears figure skates, the bottom pick shouldnot be removed - the pick is part of the design of figure skates and is essential to proper balance.
Clothing
Clothing should provide warmth, allow for movement and provide some protection from falls.
Avoid clothing that is too bulky or restrictive.
Snow suits are not recommended
Turtlenecks and a sweater or jacket on top should be sufficient.
Windbreaker pants or track pants over long comfortable pants are recommended to keep your skater warm and dry.
Warm mittens or gloves are a must. Have a backup pair in case they get wet.
Long scarves are not to be worn.
Coaches use permanent markers or bingo dabbers to draw circuits on the ice. This can stain clothes and should be taken into consideration when choosing what to wear.
Helmets
Hockey helmets with CSA approval are necessary for skaters of any age up to and including CanSkate Stage 5.
Fit should be snug. Both the strap and the helmet should be adjustable.
Face masks or cages are recommended for additional protection.
Ice Halos
Skaters from CanSkate Stage 6 through STARSkate may choose to transition from a full helmet to an ice halo
Safety pointers for skaters
Get up quickly after falling down.
Look in the direction of travel when skating backwards.
No pushing, playing tag or bumping into others or the boards.
No food, gum or candy on the ice.
Coaches, club directors and/or CanSkate co-ordinator should be advised of any skaters with special medical conditions.