Skills, Tests, Achievement, Recognition
STARSkate offers opportunities for skaters of all ages to develop fundamental figure skating skills in the areas of ice dance, skating skills, free skate and interpretive skating. Unique in Canada, this program teaches figure skating skills in a group and/or private lesson format in a progressive and sequential manner and includes specifically designed awards and incentives. Skaters have the opportunity to take Skate Canada Tests through a nationally standardized testing system. Skaters who have mastered figure skating skills in STARSkate may also choose to pursue synchronized skating or pairs skating.

Once a skater is in the Skate Canada STARSkate Program, there are several options. Skaters may choose to remain in the STARSkate Program, taking tests (although not mandatory) at organized test sessions and honing learned skills. Skaters may also choose to enter competitions, while still trying Skate Canada tests. Other skaters may feel that they have progressed to a point where they may wish to enter the Skate Canada CompetitiveSkate Program or become involved in synchronized skating, evaluating or judging, or participate as an adult or varsity member.
The STARSkate program consists of figure skating skills in four areas – Skating Skills, Ice Dance, Free Skate and Interpretive.


Program Fundamentals
Skating Skills
Skating Skills are a combination of fundamental skating movements, executed on a pattern and skated solo. The basic components of all disciplines of figure skating are incorporated into the program. The movements are derived from former compulsory figures, free skating and ice dancing. The objective of the Skating Skills program is mastery of the basic fundamentals of skating – edge quality, control, power and speed.
Ice Dance
The Dance program teaches timing, musicality, rhythm interpretation, structure as well as basic skating skills such as edges, flow, control and unison. The dances in the STARSkate Program can be tried in any order but a candidate must pass the required number of dances in a dance test before proceeding to the next level. In addition to the traditional compulsory dances, there are also Creative Dances to challenge skaters' creativity, artistry and originality.
Free Skate
Free skating consists of the execution of jumps, spins, footwork, field movements and stroking, either in isolation or performed in sequence to music.
Interpretive
The objective of the Interpretive program is to encourage and develop skaters' creativity, expression, musicality, movement, interpretation of music, as well as the use of space, rhythm, line and style. The program provides skaters with the opportunity to explore the performance aspect of skating without focusing on technical elements.


Competitions
STARSkate participants love to compete! Our feedback indicates that even though a skater may choose not to participate in the Skate Canada CompetitiveSkate Program, they still want the opportunity to test their skill in a competition situation. Skate Canada offers several opportunities to do this. Eligibility for competitions varies by skating level. Your coach should communicate with you any opportunities that your skater is eligible for. Please refer to our list of upcoming competitions under the Programs tab.
Club Competitions
Clubs offer competitions for their own members to compete against each other. The club determines the categories which generally follow Skate Canada STARSkate guidelines (e.g. length of program, category name, type of event offered, etc.) The club may also offer other creative events such as longest shoot-the-duck, similar pairs, spins and jumps, etc.)
STARSkate Interclub Competitions
These are events involving a number of clubs in the same region or area. The competition categories offered generally fall in line with the applicable Skate Canada Section specifications, so that all Interclubs within the Section are standardized (this allows Skate Canada Sections to offer a Section Final). The STARSkate Championship program provides opportunities for skaters who want to remain in the STARSkate program but also want to have the challenge of competing up to a Sectional level in a credible, nationally standardized event.
Invitational Competitions
These are events coordinated by a Section or Club(s) and offered, generally, to STARSkaters and competitive skaters. Most events fall within Skate Canada's specifications regarding program length and eligibility to compete. For more information contact the hosting Section or club.
Equipment and Clothing
Skates
As your child moves into the Skate Canada test system, it is important that they have good quality equipment. Better quality boots and blades will provide the needed support as your child advances technically and will help prevent injury. Used skates are readily available for a fraction of the cost of new ones and a good used pair is a better investment than a poor quality new pair (or ones that need a long period of breaking in). Your coach will be able to advise you what is best for your child. Your child's skates are an investment and need proper care. Make sure hard guards are worn when walking around and off of the ice. Once skates are taken off, both the blades and the soles should be wiped thoroughly dry with a towel or chamois. A pair of soft guards can be used to cover the blades while they are in the skating bag. These soft guards will cushion the blades and wick any residual moisture away from them to prevent rusting. Periodically check the screws holding the blades assuring they are tight.
Clothing
Skaters need appropriate skating clothes. Skaters can wear skating skirts/dresses and warm tights. Athletic or jazz pants are also acceptable; however these should be tight at the ankle. A sweatshirt (no hoodies), sweater or jacket that is not too bulky or restrictive is great for warmth.
Helmets
The most visible difference between CanSkate and the STARSkate level is the absence of helmets. It is imperative for kids in the CanSkate program to wear helmets for safety. The kids have very little balance and coordination at this level and they can take many spills. Once they progress to the STARSkate level, however, their balance and coordination have improved considerably and they have learned how to fall safely. Some STARSkaters are willing to wear helmets, but most will refuse because no one else wears them. Some skills are difficult to master in a restrictive helmet. Ultimately the decision whether to wear a helmet or not is between you and your skater.
STAR 1-5
STAR provides a gradual introduction to performing elements and programs in a non-competitive environment. It also provides feedback for each element and program component. It focuses entirely on the learning outcomes in long term athlete development (LTAD) while providing a fluid structure for skaters to advance through. Specific criteria are evaluated and calculated for the overall result.
Competing
STAR 1 – Group Elements Event
Introduces skaters to performing elements in a group environment without the anxiety of competition. Skating within a group makes performing fun and removes fears as your coaches are on the ice with you. Focus is on the fundamentals. These skaters receive a report card and a simple ribbon corresponding to their overall assessment rating (Gold, Silver, Bronze or Merit).
STAR 2 – Evaluated Program
Preserves the rite of passage for skaters to "have their own program." It introduces performing elements in a program without the anxiety of competition. At this point, the program is used for timing to music, focuses on fundamentals and assesses Skating Skills and Performance/Execution. Like STAR 1, these skaters receive a report card and a simple ribbon corresponding to their overall assessment rating (Gold, Silver, Bronze, or Merit).
STAR 3 – Evaluated Program
Introduces skaters to performing more challenging elements in a program without the anxiety of competition. Music becomes more important and Interpretation is assessed along with the fundamentals. The Axel jump is encouraged at this level, while trying to remove "axel anxiety" (until it's consistent, that axel causes everyone stress!) Like STAR 1 & 2, skaters receive a report card and a simple ribbon corresponding to their overall
assessment rating (Gold, Silver, Bronze, or Merit). (*STAR 2 and 3 may share programs and choreography as skaters are not competing against each other.)
STAR 4 – Ranked Program
Introduces skaters to performing a program in a competition environment.
It combines the CPC marking system with the STAR assessment process to produce a ranking. Execution of an axel is strongly encouraged at this level (even with a fall) to prepare skaters for executing more challenging jumps at higher levels. Skaters receive a report card listing their individual element assessments and rank for their group but no point total or overall
assessment (Gold, Silver, Bronze, Merit and rank in that group on report card).
STAR 5 – Ranked Program
Introduces skaters to performing in a competition environment on he CPC system with points scoring. There are 4 components: Skating Skills, Transitions, Performance/Execution, and Interpretation. Choreography is not scored. This level allows skaters to attempt any two double jumps. Most skaters in this category have a consistent axel and are working on two double jumps.
Testing
Each STAR level with have 3 to 5 tests to complete per level under three main categories – Skills, Freeskate & Dance. Each test can be done separately and in no particular order. Skaters will be advised of an upcoming test prior to the day and will must pay the corresponding fees in advance. Assessment fees are set by Skate Canada and are currently $12 per test. Testing will be done by certified coaches according to a national standard during a skaters' regular session and lesson. Skaters must receive a Silver or Gold rating in order to pass each individual test. If you
skater receives a Bronze rating then they must redo the test at a later date. Your coach and Test Coordinator will inform Skate Canada of any tests passed and your skater's national record will be updated accordingly.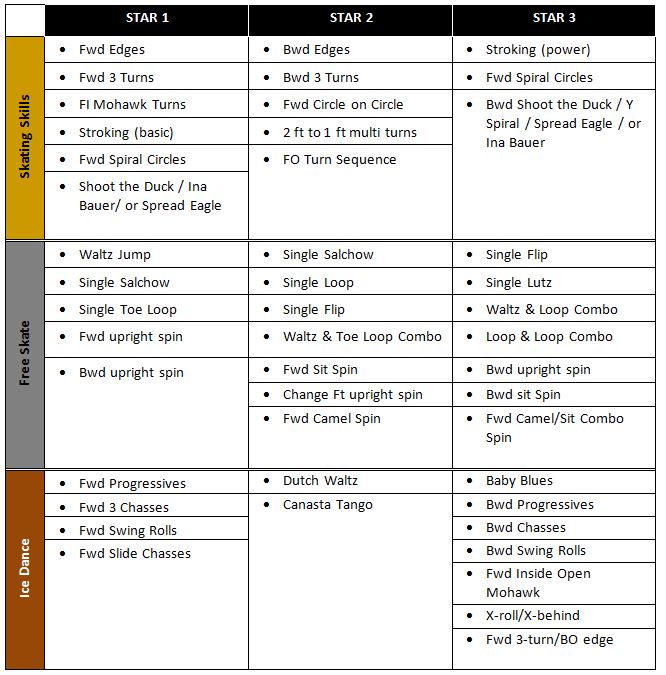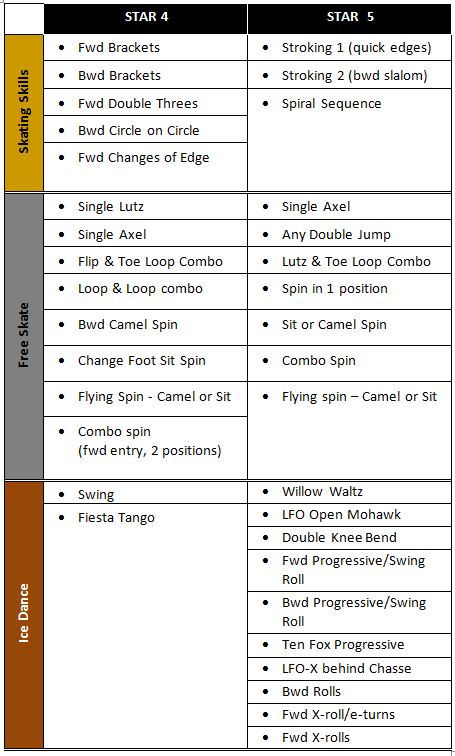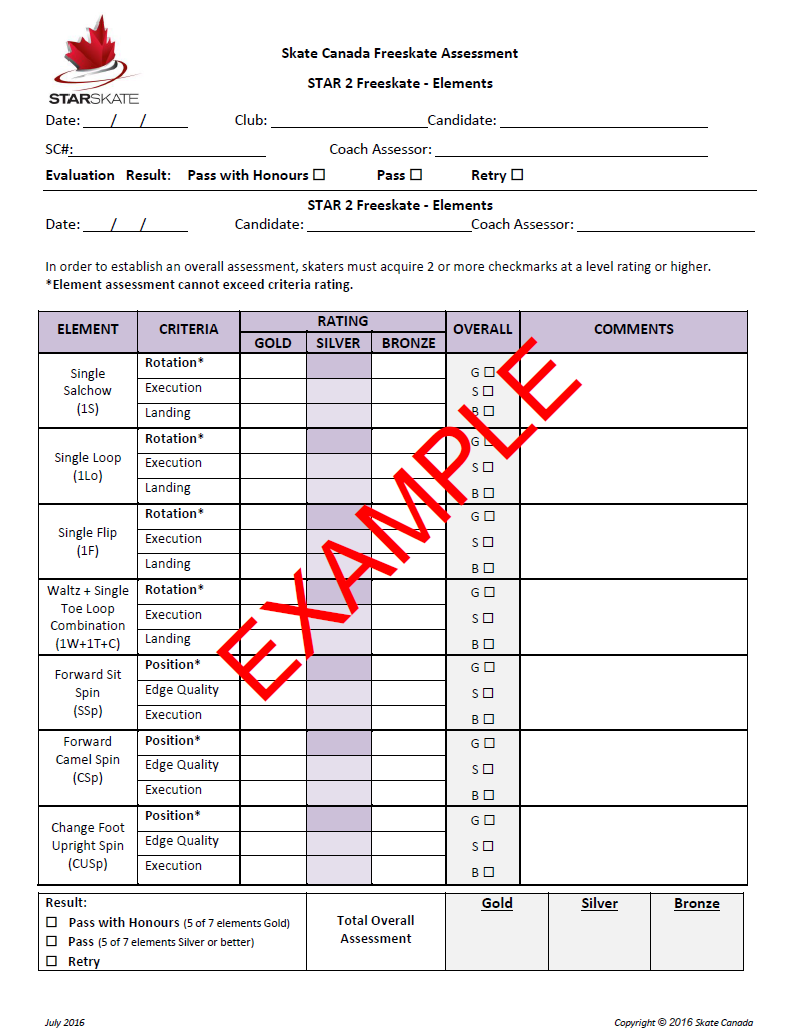 STAR 6+
Skaters may choose to continue in higher levels of the STARSkate program (Senior Bronze, Junior Silver, etc.) or transition into in CompetitiveSkate (Pre-Juvenile, Juvenile, etc.). Skaters may also explore ice dancing, pair skating, interpretive skating, or synchronized (team) skating. There are many opportunities for skaters and the best path for athletes to take should be a decision made collaboratively (child, parent and coach).
Competing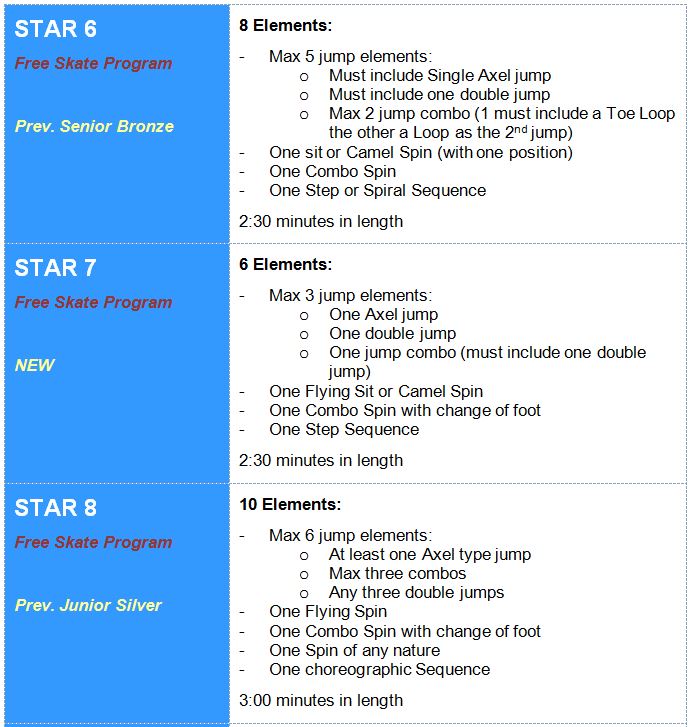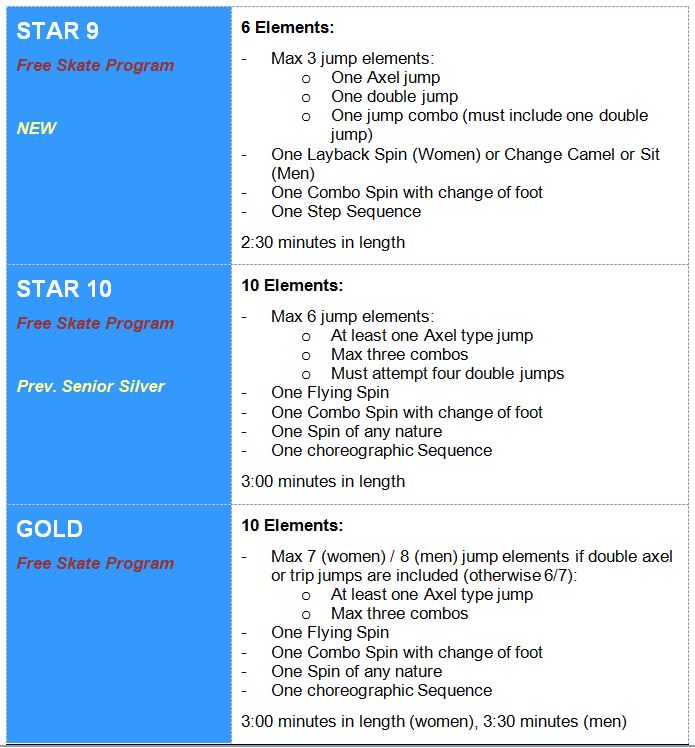 Testing
Evaluators from outside the club are brought in to assess the skaters according to national standards that are pre-determined by Skate Canada. When your coach feels that your skater is ready to take a test, his/her name will be forwarded to the test chair. A time will be reserved for your skater to take the test and your will be notified. There is also a fee that must be paid in advance in order for your skater to take the test. Test days are usually scheduled by the club twice a year - once in the Fall and once in the Winter. Testing will be done according to the following progression:
Intermediate Level Tests
• Skating Skills: Senior Bronze, Junior Silver
• Free Skating: Senior Bronze, Junior Silver
• Dance: Senior Bronze, Junior Silver
• Interpretive: Bronze
Senior Level Tests
• Skating Skills: Senior Silver, Gold
• Free Skating: Senior Silver, Gold
• Dance: Senior Silver, Gold, Diamond
• Interpretive: Silver, Gold