Figure Skating programs are for skaters who have completed all their levels in CanSkate and want to continue to learn new and more complex skating elements. Our programs follow the program structure offered by Skate Canada nationally, and vary from recreational skating to Competitive Figure Skating on the provincial and national stage.
Skaters are required to hire a private coach for this program.
Information on coaches available is on the Coaches page, or by contacting the club cbsskatingclub@hotmail.ca .
Skills, Tests, Achievement, Recognition
STARSkate offers opportunities for skaters of all ages to develop fundamental figure skating skills in the areas of ice dance, skating skills, free skate and interpretive skating. Unique in Canada, this program teaches figure skating skills in a group and/or private lesson format in a progressive and sequential manner and includes specifically designed awards and incentives. Skaters have the opportunity to take Skate Canada Tests through a nationally standardized testing system. Skaters who have mastered figure skating skills in STARSkate may also choose to pursue synchronized skating or pairs skating.

Once a skater is in the Skate Canada STARSkate Program, there are several options. Skaters may choose to remain in the STARSkate Program, taking tests (although not mandatory) at organized test sessions and honing learned skills. Skaters may also choose to enter competitions, while still trying Skate Canada tests. Other skaters may feel that they have progressed to a point where they may wish to enter the Skate Canada CompetitiveSkate Program or become involved in synchronized skating, evaluating or judging, or participate as an adult or varsity member.
The STARSkate program consists of figure skating skills in four areas – Skating Skills, Ice Dance, Free Skate and Interpretive.
Program Fundamentals
Skating Skills
Skating Skills are a combination of fundamental skating movements, executed on a pattern and skated solo. The basic components of all disciplines of figure skating are incorporated into the program. The movements are derived from former compulsory figures, free skating and ice dancing. The objective of the Skating Skills program is mastery of the basic fundamentals of skating – edge quality, control, power and speed.
Ice Dance
The Dance program teaches timing, musicality, rhythm interpretation, structure as well as basic skating skills such as edges, flow, control and unison. The dances in the STARSkate Program can be tried in any order but a candidate must pass the required number of dances in a dance test before proceeding to the next level. In addition to the traditional compulsory dances, there are also Creative Dances to challenge skaters' creativity, artistry and originality.
Free Skate
Free skating consists of the execution of jumps, spins, footwork, field movements and stroking, either in isolation or performed in sequence to music.
Interpretive
The objective of the Interpretive program is to encourage and develop skaters' creativity, expression, musicality, movement, interpretation of music, as well as the use of space, rhythm, line and style. The program provides skaters with the opportunity to explore the performance aspect of skating without focusing on technical elements.
Assessments
The assessment guides used to support coaches and skaters with descriptions and standards for each element, program or dance in the STAR program are all available on the Skate Canada website. Click the link below to view the site:
Skate Canada's Skater Development Video Library is a great resource for learning more about how STARSkate assessments. Click the link below to visit their library on YouTube.
Skater Development Video Library

Competitions
STARSkate participants love to compete! Our feedback indicates that even though a skater may choose not to participate in the Skate Canada CompetitiveSkate Program, they still want the opportunity to test their skill in a competition situation. Skate Canada offers several opportunities to do this. Eligibility for competitions varies by skating level. Your coach should communicate with you any opportunities that your skater is eligible for. Please refer to our list of upcoming competitions under the Events tab.
Club Competitions
Clubs offer competitions for their own members to compete against each other. The club determines the categories which generally follow Skate Canada STARSkate guidelines (e.g. length of program, category name, type of event offered, etc.) The club may also offer other creative events such as longest shoot-the-duck, similar pairs, spins and jumps, etc.)
STARSkate Interclub Competitions
These are events involving a number of clubs in the same region or area. The competition categories offered generally fall in line with the applicable Skate Canada Section specifications, so that all Interclubs within the Section are standardized (this allows Skate Canada Sections to offer a Section Final). The STARSkate Championship program provides opportunities for skaters who want to remain in the STARSkate program but also want to have the challenge of competing up to a Sectional level in a credible, nationally standardized event.
Invitational Competitions
These are events coordinated by a Section or Club(s) and offered, generally, to STARSkaters and competitive skaters. Most events fall within Skate Canada's specifications regarding program length and eligibility to compete. For more information contact the hosting Section or club.
Competition Structure
STAR 1 – Group Elements Event
Skaters receive a report card corresponding to their overall assessment rating (Gold, Silver, Bronze or Merit).
STAR 2 & 3 – Evaluated Program
Performance of elements in a program. Skaters receive a report cardcorresponding to their overall assessment rating (Gold, Silver, Bronze or Merit).

STAR 4 – Ranked Program*
Combines the CPC marking system with the STAR assessment process to produce a ranking. Skaters receive a report card listing their individual element assessments and rank for their group but no point total or overall assessment (Gold, Silver, Bronze, Merit and rank in that group on report card).
STAR 5 & up – Ranked Program
Skaters perform their a program and are ranked according to the CPC system with points scoring. There are 4 components: Skating Skills, Transitions, Performance/Execution, and Interpretation.
Equipment and Clothing
Skates
As your child moves into the Skate Canada test system, it is important that they have good quality equipment. Better quality boots and blades will provide the needed support as your child advances technically and will help prevent injury. Used skates are readily available for a fraction of the cost of new ones and a good used pair is a better investment than a poor quality new pair (or ones that need a long period of breaking in). Your coach will be able to advise you what is best for your child. Your child's skates are an investment and need proper care. Make sure hard guards are worn when walking around and off of the ice. Once skates are taken off, both the blades and the soles should be wiped thoroughly dry with a towel or chamois. A pair of soft guards can be used to cover the blades while they are in the skating bag. These soft guards will cushion the blades and wick any residual moisture away from them to prevent rusting. Periodically check the screws holding the blades assuring they are tight.
Clothing
Skaters need appropriate skating clothes. Skaters can wear skating skirts/dresses and warm tights. Athletic or jazz pants are also acceptable; however these should be tight at the ankle. A sweatshirt (no hoodies), sweater or jacket that is not too bulky or restrictive is great for warmth.
Helmets
The most visible difference between CanSkate and the STARSkate level is the absence of helmets. It is imperative for kids in the CanSkate program to wear helmets for safety. The kids have very little balance and coordination at this level and they can take many spills. Once they progress to the STARSkate level, however, their balance and coordination have improved considerably and they have learned how to fall safely. Some STARSkaters are willing to wear helmets, but most will refuse because no one else wears them. Some skills are difficult to master in a restrictive helmet. Ultimately the decision whether to wear a helmet or not is between you and your skater.

Skaters on the STAR or CompetitiveSkate sessions are required to have a coach that oversees their skating (though it is not mandatory that they work with a coach on every session). A private lesson is a one-on-one lesson with coach and skater, and a group or semi-private lesson is 2 or more skaters with a coach during their lesson, where the coaching fee will be divided by the number of skaters in the group. When looking for a coach, you can get information directly from the potential coaches. If you would like additional guidance in finding a coach please feel free to contact the club . Click here to view our current roster of club coaches.
Fees
Coaching fees are paid by the parent directly to the coach, and are not included in your registration fees. It is a good idea to discuss a coaching budget with your coach. It is up to the parent to make arrangements with the coach for lessons (i.e. type and amount/week) and to discuss fees for lessons (the coach(es) of your choosing will have a fee schedule for you). Parents will also be responsible to pay the coach(es) for time involved in creating their skater's music, and for coaching at tests or competitions. These fees can be paid directly to the coach who will bill you. Your coach should provide you with a welcome letter to inform you of their own policies, fees, expectations, as well as their contact information.
Invoicing
Each coach is responsible for invoicing their skaters for the lessons which they receive, at which point you are then responsible for paying the coach directly. Payments are expected to be made to the coach within 7 days of receiving the invoice. Certain coaches may apply late fees should you not pay on time.
Lesson Time
It is up to the coach how the divide their lesson time. Lesson time is not necessarily divided evenly amongst all skaters. Each coach has the right to schedule their lessons based on the level, needs and situation of a skater. For Example: On a silver session, a Star 5 Skater preparing for Provincials may get more lesson asthe competition approaches then another skater on their session. Parents and skaters must respect the coach's decisions when it comes to this.
Testing
It is up to the coach if a skater is ready to try a test or not. It is each coach's responsibility to look out for the best interest of their skaters skating. As professionals they know when a skater is or is not ready to try a test.
Levels
The coach reserves all rights to determine which at which level a skater competes. The coaches are familiar with the requirements and standards for each session so they know where each skater belongs.
Team Coaching
Team coaching is becoming more and more popular, it allows each coach the opportunity to take on more students and ensure that everyone receives the lesson time they need. In team coaching, each skater will have their main coach which oversees everything, as well as work with other coaches who their coach has
selected to help with their skaters. If you feel a certain member of a team is not best suited for your child please discuss in private with your child's main coach.
Receiving Lessons from other Coaches
Skaters and parents are not permitted to request additional lessons from coaches who are not members of their coaching team. If a skater would like a lesson with another coach they are to ask their coach and see if they could arrange it.
Talking to your Coach
We encourage you to communicate with your coach frequently to make sure that everyone is on the same page. However, these discussions are to take place during a designated times arranged between you and the coach. Stopping a coach during a session or as they are getting on the ice takes lesson time away from skaters.
Changing Coaches
It is not unusual for a skater to change coaches during his/her career. Skaters often seek specialized attention from different coaches at different times to help them meet their skating goals. When and if, the decision to change coaches has been made, certain common sense and ethical procedures should be followed:
• Notify your current coach of your decision privately;
• Pay any outstanding account balances;
• Seek a new coach, although informal and discreet inquiries in this area may start earlier;
• Be discreet and courteous throughout.
Program Assistants
Program Assistants are an important component to any successful CanSkate program. The role of the Program Assistant (PA) varies depending upon the needs and dynamics of a club. However, all duties involve assisting Skate Canada coaches in the delivery of the program. Our PAs are STARSkaters who are at least
11 years of age as of July 1, and have completed the STAR 3 FreeSkate Assessment. PAs are on the ice to assist coaches during the lesson, to demonstrate the skills and to help supervise. PAs also lead groups from station to station. They provide the CanSkater with a familiar, friendly face and hope to spread the joy of skating by being a role model for the skaters.
Responsibilities
• Assist our coaches in delivering the program on-ice and off-ice
• Demonstrate skills and teaching progressions
• Supervise practice sessions
• Lead warm-ups and cool-downs under the direction of the Skate Canada coach
• Reinforce learned skills (follow-up on coach instruction)
• Lead circuits, drills, group activities
• Distribute awards (stickers, badges, etc.)
• Take attendance
• Be a role model for young skaters
• Program Assistants are a very important part of our successful CanSkate program. The role of the PA varies depending on the unique needs and dynamics of the club
Criteria to become a PA
• PAs must be currently registered as a Skate Canada members
• Must be 11 Years of age and older as of July 1
• Must have completed the STAR 3 FreeSkate Assessment
• Must attend all training sessions
• PAs have good communication and demonstration skills
• They are reliable, punctual and responsible
• PAs commit for the whole skating season
• They are not paid and act as volunteers

Skaters who wish to challenge their figure skating skills and who show potential as competitive skaters can participate in the CompetitiveSkate
program. This program is for skaters in singles, pair and ice dance wishing to compete in qualifying events within Skate
Canada.
It's more than just skating!
Skaters enrolled in CompetitiveSkate learn a variety of life skills as they progress up the competitive ladder. These include goal setting, focus, ability to deal with success/failure, time management and principles of fair play and sportsmanship. In addition to the life skill benefits, skaters in this program receive:
• access to provincial and national funding programs (as applicable)
• the opportunity to be selected to Skate Canada's National Team
• the opportunity to compete at Skate Canada Sectionals, Skate Canada Challenge, and/or the Canadian Figure Skating Championships
• opportunity and potential to be selected to represent Canada internationally
• access to sport science services
If I Participate in the Competitive Program, is that All I Can Do?
No! Many skaters who compete in the qualifying event structure also take tests in Skate Canada's STARSkate Program or participate on synchronized skating teams. The only events that you may not be able to compete in are club, and STARSkate events, some of which restrict entry of skaters who have competed in the Qualifying Event system.
The Qualifying Event structure
There are several opportunities throughout the season for skaters to participate in competitive events. The Skate Canada CompetitiveSkate Program offers nationally standardized competitions to competitive skaters. These events are the stepping stones to things such as the National Team and the World and Olympic teams. Skaters competing in the qualifying event structure can do so at the Juvenile (optional category), Pre-Novice, Novice, Junior and Senior levels in singles, pair and ice dance.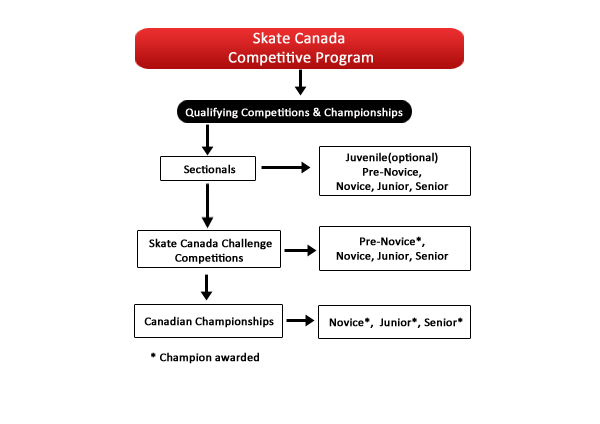 Skate Canada Sectionals
The Skate Canada Sectionals are the first of the Skate Canada qualifying competitions. Skaters can compete in events from Pre-Novice to Senior (Juvenile is optional). Those who finish in the top four places (8 places in Quebec) in the Pre-Novice, Novice, Junior and Senior events are eligible to compete at the
Canadian Qualifying Event (Challenge). Each of the 13 Sectional events takes place in November.
Skate Canada Challenge
The Skate Canada Challenge is an elimination event for the Canadian Figure Skating Championships (Novice, Junior and Senior skaters). Pre-Novice National Champions will be declared at a combined Challenge event in each discipline. These events are held in December. Senior skaters qualify through these events for the Canadian Figure Skating Championships.
Canadian Figure Skating Championships
The Canadian Figure Skating Championships are held every January in a different city. Competition is offered in singles, pair and ice dancing at the Novice, Junior and Senior level. The top four Senior entries from the Qualifying Events (Challenge) are eligible to compete. Skaters will compete at Challenge other than those receiving a bye.
After completion of the Championships, the Skate Canada Board of Directors selects the teams that will represent Canada at the ISU World Figure Skating Championships, ISU Junior World Championships as well as the ISU Four Continents team. Results from this event are also used to help determine what skaters will be on the National teams.
Commitment
According to Skate Canada's Long-Term Athlete Development at the CompetitiveSkate level a skater should look at committing on-ice time ranging between 3-5 days per week with as many as three sessions per day. Skaters should also take into account office training as well which could include jumps, fitness, flexibility,
yoga, ballet and other training methods.
Bronze
• Session Requirement: Passed CANSkate Stage 6
• Approx. Test Level: STAR 1-2
• On-Ice: 45-60 min sessions; 2-5 days/wk
• Off-Ice: 1-3 hrs/wk
Silver
• Session Requirement: 3+ test points
(min 2 points must be Freeskate points)
• Approx. Test Level: STAR 3-5
• On-Ice:
- STARSkate - 45-60 min sessions; 1-2 sessions/day; 2-5 days/wk
- CompetitiveSkate - 45-60 min sessions; 1-2 sessions/day; 3-5 days/wk
• Off-Ice
- STARSkate - 1-4 hrs/wk
- CompetitiveSkate - 3-8 hrs/wk
Gold
• Session Requirement:
- 9+ test points (min 5 points must be Freeskate points), OR
- 12+ test points (min 4 points must be Freeskate test points),
OR
- 10+ CPC technical element score
• Approx. Test Level: Sr. Bronze and up
• On-Ice:
- STARSkate - 45-60 min sessions; 1-2 sessions/day; 2-5 days/ wk
- CompetitiveSkate – 45-60 min sessions; 1-2 sessions/day; 2-5 days/wk
• Off-Ice:
- STARSkate – 3-5 hrs/wk
- CompetitiveSkate – 4-14 hrs/wk
Notes:
1. STARSkate test points assigned for each passed test (excludes pre-preliminary tests or dance segments): 1 point for each PART of Free Skate test (2 points for Complete test) / 1 point for each GROUP of Dances / 1 point for Skills / 1 point for Interpretive
2. While Training LTAD may not always be achievable, athletes should be working toward these scheduling goals
3. Off-ice consists of jumps, fitness, flexibility, yoga, ballet and other training methods.
Where Do I Go From Here?
There are a number of options once a skater decides that the Competitive Program may not be the Program for them. Skaters may choose to enter Skate Canada's STARSkate Program or participate on a Synchronized Skating team. Others who are leaving the Competitive Program to pursue other interests may
be interested in becoming coaches, evaluators, judges, technical specialist, technical controller or data specialists. Others may choose to participate on a varsity skating team (if offered), or continue to skate and compete as an adult member of the Association.