WINTER REGISTRATION IS NOW OPEN
Click here for instructions on How to Register: CanSkate or STARSkate
---
Week of Nov 30 - Dec 6th 2015
Learn to Skate Programs - All (Pre) & CanSkate sessions will take place as per the normal schedule.
Figure Skating Programs - All sessions (on & off ice) will take place this week as per the normal schedule. Synchro Sessions on Wednesday, Dec 2nd are cancelled. Please note that STARSkate sessions will be taking place.
Please check My Family Calendar for your personalised schedule (must be logged in)
---
Learn to Skate Options
With the opening of our second ice surface in CBS, we are pleased to expand our Learn to Skate programming. In addition to Pre-CanSkate and our regular CanSkate programming we will also be offering:
Our older skaters now have their own skating session on Thursday evenings with our Adult-TeenSkate.
Accelerated CanSkate is new this season, and is a lower ratio option (max 1:6) for our CanSkaters who are completing stages 2-6 and is being offered twice a week.
A new speciality program is being offered to CanSkaters, identified by our coaches with an aptitude for skating, who wish to pursue Figure Skating with our Academy CanSkate (with a max ratio of 1:5) program on Mondays.
A special Boys Session (for both CanSkate Stages 3+ & STARSkaters) will be offered on Saturday afternoons with guest skaters from around the province.
Note: All CanSkate sessions run for 10 weeks from Jan-Mar (Academy CanSkate is 11 weeks). These weeks might not be consecutive due to ice availability, but all programs will get their full allotment of sessions.
For more information, please speak to your coach or visit the Skating Office
Holiday

Festival

on

Ice
Wednesday, December 2nd, Mile One Centre will play host to the Holiday Festival on Ice featuring Scott Moir & Tessa Virtue, Kurt Browning, Joannie Rochette and so many more...
But

did

you

know

...
The last time this event came to town, this event was a dream come true for 3 people you all know very well - Matt, Kaitlin & Robyn!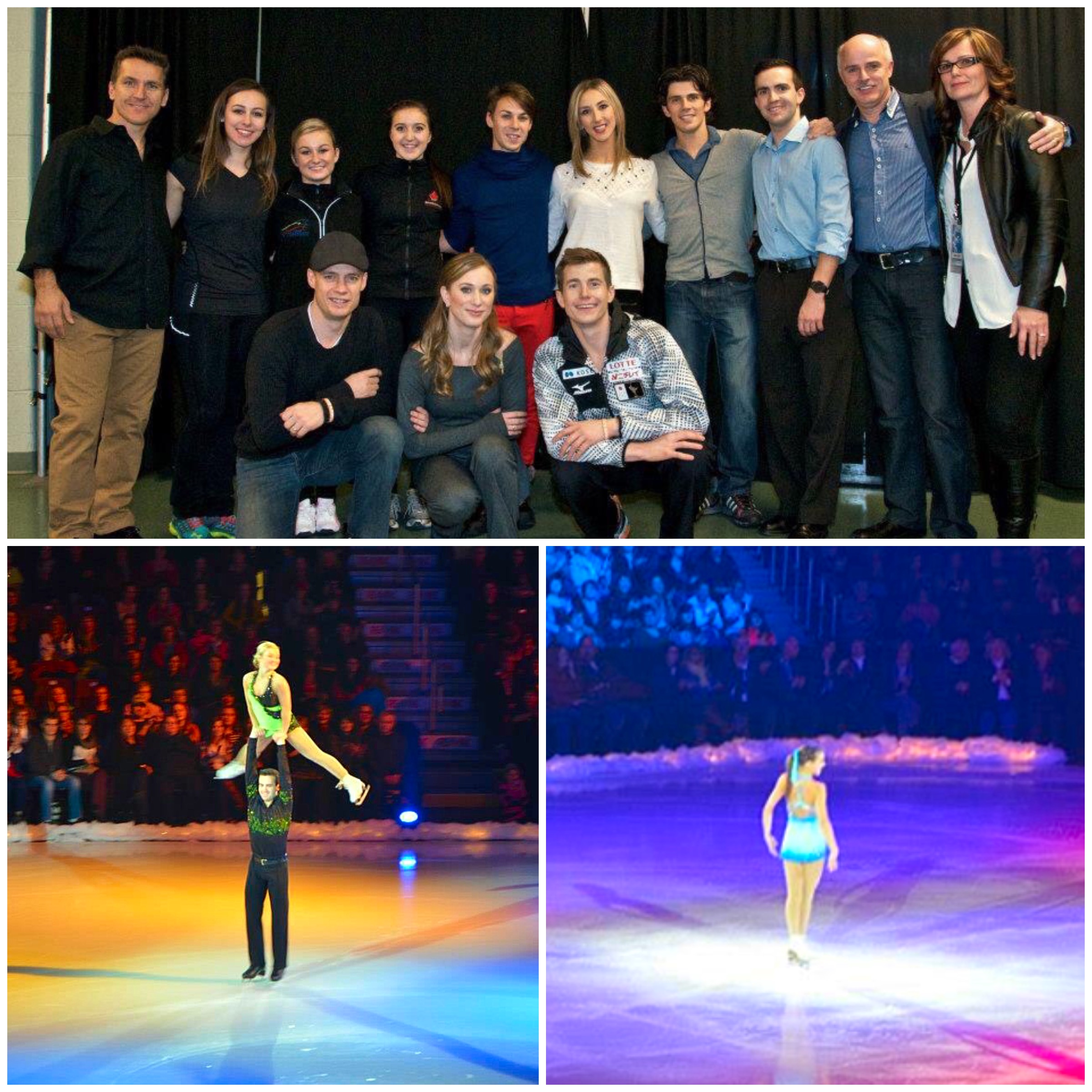 The above picture shows the cast of the 2012 Holiday Festival on Ice, alongside greats such as Kurt Browning, Elvis Stojko, Joannie Rochette and Jeffrey Buttle are CBS Skating Club Coaches Kaitlin Harte and Matt Power, as well as former coach Robyn McGrath.
As a result of their skating success, all three were invited to perform during the show and be treated as full members of the cast and had an opportunity to skate in front of the local audience at Mile One.
Kaitlin described the experience as "Something I will never forget, I am so glad to have had the opportunity to skate with people I have looked up to my whole life."
Matt's words were "Anytime I tell someone I was a figure skater I always get asked 'Are you like Kurt Browning or Elvis Stojko?' and now I get to laugh and say 'well not exactly, but I skated with them!' and to me that's like a hockey player saying he's played with Gretzky."
Matt, Kaitlin & Robyn were fantastic that day as they are with our skaters every week.
And we are sure that as much as our coaches enjoyed being on the ice with skaters they looked up to back in 2012 - the CBS Skaters look up to you guys just as much!
Online Registration Help
The skating club will offer online registration help during our regular office hours.
Some helpful hints:
1. Password reset is available on the login page
2. Ensure that all skaters have been identified under your profile prior to beginning the registration process.
3. Registration instructions are available under each program heading on our webpage.
4. Skate Canada fees apply to all NEW participants and will show on your invoice.
5. Those who will be participating in 1x Accelerated CanSkate session AND 1x regular CanSkate session, will not see the discount on their invoice. This will be manually done by the office.
---
Congratulations

Congratulations to all our skaters who participated in the Agnes Thistle Invitational this past weekend.

You worked hard and made the CBS Skating Club very proud!
Online Winter Registration is Now Open
Our new Winter Schedule (Jan-Mar 2016) is now listed on your Master Schedule tab and under each of our different program pages:
CanSkate including Accelerated CanSkate (lower ratio)
Academy CanSkate
Adult-TeenSkate
Synchronized Skating
STARSkate
For more information on our different programs, please check our program charts:
Learn to Skate and Figure Skating
* * * * *
Online Registration is now open. In person registration and cash/cheque payments will not take place until Sunday, December 6th during office hours (2 p.m. - 7 p.m.).
If your skater is currently participating in the Fall sessions, please sign your skater up for the level they are currently working on as of the registration. Any changes in levels will take place in January.
Note: Academy CanSkate is not available for online registration. Registration is by invite, and details will be provided to you in your email invite.
Winter Session Schedule
All CanSkate programs run for 10 weeks
(with the exception of Academy CanSkate which is 11 weeks)
All STARSkate programs run for 11 weeks
(with the exception of speciality programs which are 10 weeks)
These weeks might not be consecutive due to ice availability, but each programs will get their full allotment of sessions between Jan 4th & April 22nd 2016. The registration calendar and "My Family" calendar will be updated when ice availability is confirmed.
Speciality Programs
This season we are also very please to present new speciality programs:
Artistic Development (Wed 4:00 p.m.)
The Artistic Development session is a great way for skaters in the preliminary level and higher (STARSkate Silver & Gold) to practice their performance, musical interpretation and skating skills in a fun, team oriented enviroment.
Skaters will be divided into groups of 4/5 skaters which will be assigned a piece of music and theme. Each week in their groups, with the assistance of the coach, they will work to create a routine to the assigned music. During the last day of the term, the groups will perform their routine to an audience and panel of judges, winners will be decided and awarded a prize.
Boys Session (Sat 12:50 p.m.)
The boys session will give male skaters (in Stage 3 or higher) the chance to practice their skating with other boys at their level. The goal of this session is to allow the boys to have a strong male presence on the ice to avoid the intimidation of always being outnumbered by girls in the Skate Canada programs, with hopes to keep them involved longer.
During this session we will be welcoming other male skaters, as well as pairs and dance teams from all across the province to join us for a small drop-in fee.