---
Registration for all programs is now

OPEN!
Looking for Information about our Programs?
Learn-to-Skate
Includes: Pre-Can, CanSkate, Academy, Adult-Teen, Pre-Bronze
Duration: 20 weeks from Oct 2016 - March 2017
Payment Options: 1 installment at registration or 2 installments (registration & Dec 15)
Schedule & Fees: Pre/CanSkate/Pre-Bronze Academy Adult-Teen Skate/Synchro
Descriptions of programs offered: 2016/17 Learn2S8 Programs
Figure Skaters
(STAR & Competitive)
Includes: Bronze, Silver, Gold
Duration: 22 weeks from Oct 2016 - March 2017
Payment Options: 1 installment at registration or 2 installments (registration & Dec 15)
Schedule & Fees: STARSkate Competitive
Descriptions of programs offered: 2016/17 FS8 Programs
Synchro Team
All team selections are based on placement from April 2016 Tryouts
Schedule & Fees: Synchro
---

Do you have a skater that wants to Learn-How-to-Skate? Unsure what session to sign them up for? Check our Learn-to-Skate chart for a quick guide on our programs and their levels.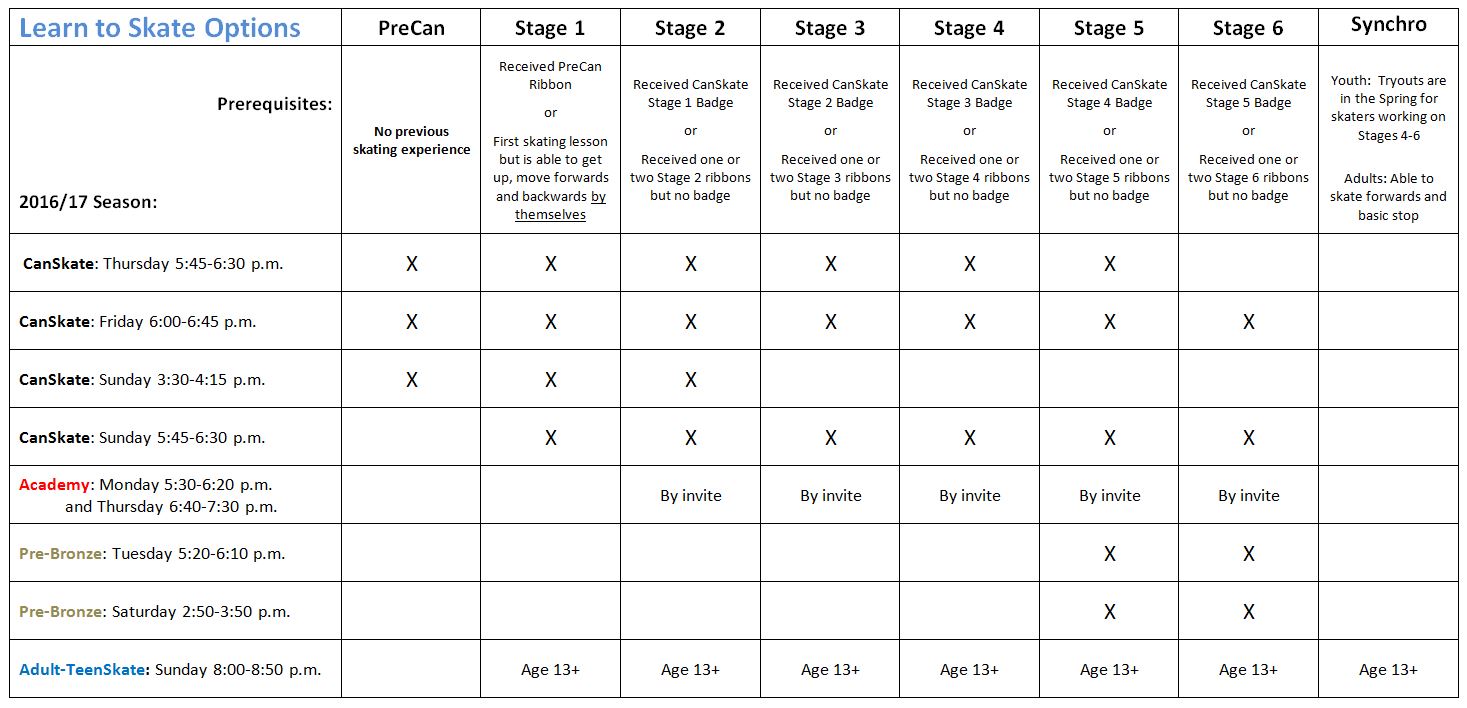 We offer many different Learn-to-Skate options this season. Please refer to our Learn-to-Skate descriptions on our webpage to see if there is a program right for you!
---
Program Highlight: Pre-Bronze
One of our new programs this year is our Pre-Bronze Sessions. Pre-Bronze will be offered at the Robert French Memorial Stadium on Tuesday's from 5:20-6:10 p.m. and again on on Saturday at 2:50-3:50 p.m. After our Tuesday session will also offer an off-ice session that concludes at 7:05 p.m.
Pre-Bronze is the transition between our Learn-to-Skate and Learn-to-Figure Skate programming. The sessions are specifically designed for those skaters who are interested into moving into our Figure Skating after their completion of CanSkate. The pre-requisite to join our Pre-Bronze program is the full completion of Stage 4 CanSkate - working on Stages 5 to STAR1.
This program focuses on the transition from the CanSkate Program into the STARSkate Program while helping our skaters complete their final stages of CanSkate and their STARSkate 1 elements. Included in the cost is the coaching fees as our pre-bronze skaters will be taught by our Professional Coaches in a group format.
Fall-Winter Sessions
We have now announced our Fall-Winter schedule. Registration dates are staggered thoroughout August depending upon the program.
This year we will be combining our Fall-Winter sessions into one registration - so you will be registering for 20/22 weeks in September (instead of historically two 10/11 week seasons)
Registration will take place online at our website www.cbsskatingclub.com
Announcing our new Fall/Winter Schedule: Master Schedule
Congratulations!
Congratulations to all of our skaters who performed beautifully at
the Skate Canada NL Summer Skate:
STAR 3: Teagan Winter
STAR 4 (U10): Jada Boland - 2nd
STAR 4 (U13): Syrai Fitzgerald - 1st
Katelyn Maloney - 2nd
Katie Ellis - 5th
STAR 5 (U13): Alexa Pynn - 2nd
STAR 5 (13+): Anna Boland - 3rd
STAR 6: Brooke Andrews - 2nd
Pre-Novice: Hayley Dalton - 6th
Novice: Amber Boutcher - 1st
Online Registration & Payments
Online Registration only:
Registration for all of our progamming takes place online. We will not be scheduling in-person registration. All skaters must create a profile and sign-up for their desired sessions using our online system.
Payment Options:
Method of Payment: You have the option of paying by Credit Card/Debit Visa online or choosing to pay-in-person (cash or cheque only) when checking out.
Our pay-in-person time will be Tuesday, August 30th from 6:00-8:00 pm at the CBS Skating Club's office in the (New) CBS Arena. We will only be accepting cash and cheque payments during this time.
Payment Schedule: To complete the checking out process, you can choose to pay the full or amount or by two installments. If you choose installlments you will need to make a payment of at least 50% of all fees plus the Skate Canada fee. The remaining fees will be due by December 15th. This balance will show in your account and you may opt to pay the remainder prior to Dec 15th by logging back into your account and choosing to pay your balance.
Is my online payments secure?
CBS Skating Club uses a reputable speciality web service for our registration and payments. Our service guarantees that at least 256-bit Secure Socket Layer (SSL) encryption when taking any personal information, that all passwords are encrypted and that they never store credit card numbers, card security information or expiry dates on their service. This service is provided to us by Uplifter Inc. (security policy) and Beanstream Internet Commerce Corp. (security-and-pci-compliance).
We offer the option of paying in person for those who still may have concerns about making payments online. You will still need to create a skater profile and register online but you may choose the pay-in-person option. If you choose this option you will NOT be able to pay by credit card in person - only by cash or cheque.
How can I get help registering online?
Our online registration system was very successful last year with minimal issues amongst our users. Please follow our "How-to-Register Guides". And if you are still having troubles, please do not hesitate to contact us by email (cbsskatingclub@hotmail.ca) and we will try and help you out - please make sure you include your contact information.