The 2015/16 Skating Season has begun!
Week of Sept 28 - Oct 4
Learn to Skate Programs - (Pre) & CanSkate begin this week - no schedule changes
Figure Skating Programs - All StarSkate & off-ice begin this week - no schedule changes
Please check My Family Calendar for your personalised schedule (must be logged in)
---
Fall Season Registration
Registration and withdrawal for Fall Sessions is now closed.
Please click here for further information on our refund policy
Thank you to everyone who registered. If you did not get your session preference this time, please stay tuned to our website later this Fall as we launch our new schedule and expanded program for the Winter Season.
---
Skate Canada (Insurance) Fee
Please note that there was an error with our registration system for the first hour of registration and some people were not charged the Skate Canada insurance Fee. If your account is in this situation, we have added it to your account. This must be paid prior to your first skating session. If you are unsure if you are in this situation, login to your account on this website and then choose "my account". Your account status will how any outstanding fees.
Support our Synchro Teams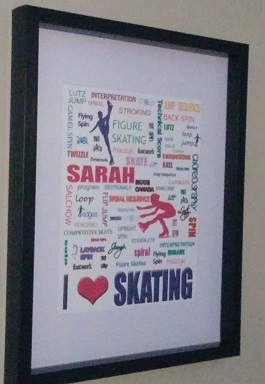 This year the CBS Skating club is pleased to have 3 synchro teams who will participate in 2 province-wide competitions; one being provincials in Corner Brook.
To help offset their costs, they will be fundraising throughout the year. Their first fundraiser is the sale of Word Art.
Each beautiful picture comes in a 10 x 13 frame
(and is matted to 8 x 10).
Cost is $20 a picture or 3 for $50.
Pictures can be personalised and different sport options are available
Check out the Synchro's fundraising facebook group that displays the different options they have to offer.
CBS Synchro Fundraising 2015
Yoga for Skaters
Yoga for skaters, off-ice training, begins on October 4th. All skaters who registered through our online registration system should have received an email directly from Jennifer at Santiyoga this past week.
A secondary registration form is required and are available on Santiyoga's website. Payment is due direct to Santiyoga and receipts will be provided during the first class.
Email Address
We have had some technical difficulties with the recent change of our email addresses.
Therefore, we have decided to return to our original email address of:
Please direct correspondence to this email address going forward. Thank you for your understanding.